ReflexClient CRM is a Customer Relationship Management software developed by Volume Software. It natively integrates with VoluPack, VoluPrim and VoluLabel ERPs. Mobile by nature, it accompanies sales representatives on their travels. This enables them to update customer records or enter visit report on the go. Back to the office or using a remote connection to the enterprise network, a synchronization enables the retrieval to the information system of all the data entered by the sales representative while away.
Paired with ReflexClient Cubes, sales representatives also have all the data about their customers: estimates, orders, invoices. This gives them a powerful tool to perform quick analyses of their customers activity.
Agenda
Fully integrated in ReflexClient, the agenda gives you access to all events added to your CRM solution. It syncs with your Microsoft Outlook and Google Calendar agendas.
A simple click brings up detailed information about an event (for example the time and location of an appointment), and indicators inform you about the tasks that are due to expire.
Company knowledge
ReflexClient CRM enables to organize information about the companies that you are exchanging with. Companies can be arranged by types of relationships :
Suspects (maybe future prospects), prospects and customers
Suppliers, Partners and competitors
Numerous information from the company record are automatically synced with the ERP. Their update in the field by the sales representatives ensure a greater reliability of the information system as a whole.
RefleClient CRM ishighly configurable, whether at the list or structured notes levels. You can also create new tabs to customize the entry of the company record depending on your needs.
Contacts
ReflexClient enables you to manage easily all your contacts. A smart phonetic search offers the ability to find contacts quickly without knowing exactly the exact spelling of family names. Phone numbers, email addresses and customizable data are synced and shared between all employees. Even if a contact leaves a company for another, just change the attached companie and you will keep the related history.
You can also configure the automated synchronization of your CRM contacts with Microsoft Outlook or Google Gmail.
Business deals
Business deals group portfolios of potential business for sales representatives. Each business deal includes a number of steps defined in custom scenarios. At each sale step, the representative specifies how the total amount of the business case evolves and estimates the probability of success. He also indicates the expected signature horizon. Visuals indicators are available to quickly identify the status and amount of the business deal.
Appointments
ReflexClient offers a complete management of appointments within your company. An appointment entered in ReflexClient will automatically sync with your desktop agenda and vice versa.
In addition to basic information such as the time and location of appointments, you can add attachments and link them to business deals.
You can also send email invitations to attendees. Their answers will be presented as icons.
Tasks
ReflexClient ensures the traceability of actions for sales representatives and employees. You can monitor the following tasks: customer visits, appointments, important mails, etc. Each task is assigned with a priority level, a deadline and a state (to do, in progress, completed, aborted).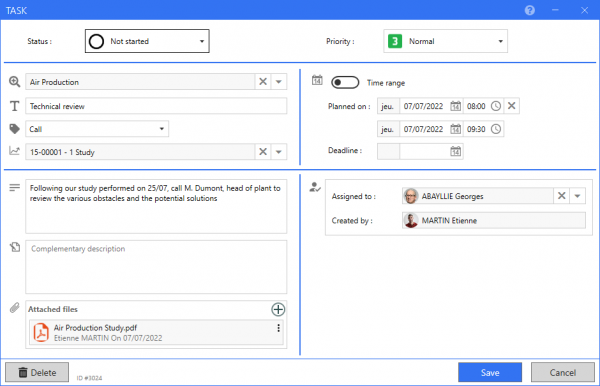 Absences
ReflexClient offers users the opportunity to declare their absences. Absences can be managed with public and/or private designations, the latter being only visible to the user who declared the absence. This function allows each user to control the information he shares with the other users.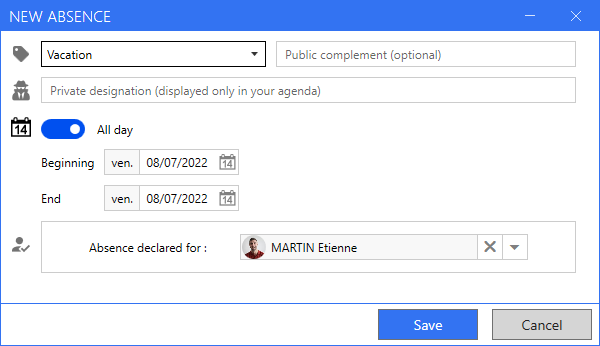 Announcements
Announcements offer a convenient way to communicate messages to all users, for example to inform about a customer visit or an upcoming event of technical maintenance.
Customizable lists
ReflexClient offer the ability to make fully configurable lists from companies, actions or business deals. List results can be exported to Microsoft Excel with just a click. For example, you can extract the data from a department or a business line to send a mailing to your customers.